Jurassic World: Dominion Dominates Fandom Wikis - The Loop
Play Sound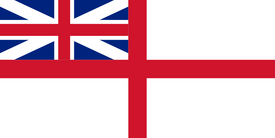 The Royal Navy was the naval force of the United Kingdom, and, at the time of Horatio Hornblower's career, the most powerful seagoing military force in the world.
History
The Royal Navy was formally created as the national naval force of England in 1660, following the Restoration of King Charles II to the throne. It became the naval force of the Kingdom of Great Britain after the Union between England and Scotland in 1707 which merged the English Navy with the (much smaller) Royal Scots Navy, though the two began operating together from the time of the Union of the Crowns.
The English Navy had no defined moment of formation; it started out as a motley assortment of "King's ships" during the Middle Ages assembled only as needed and then dispersed, began to take shape as a standing navy during the 16th century, and became a regular establishment during the tumults of the 17th century. The Navy grew considerably during the global struggle with France that started in 1690 and culminated in the Napoleonic Wars, a time when the practice of fighting under sail was developed to its highest point.
Administration
The Royal Navy was governed by the Admiralty, which controlled the logistics, commissions, and missions of the vessels in service all over the world.
---
Glossary
:
Search
Wikipedia
---
Also: