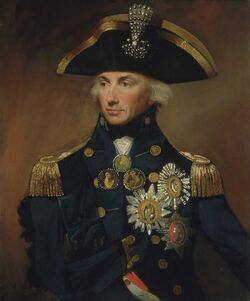 Horatio Nelson, 1st Viscount Nelson, 1st Duke of Bronté, K.B. (29 September 1758 – 21 October 1805) was a flag officer famous for his service in the Royal Navy, particularly during the Napoleonic Wars.
In history
Edit
In the Hornblower series
Edit
While Nelson never appears as a living person, references are made to him in both the novels and the TV series:
He is mentioned in Hornblower and the Hotspur briefly.
In Hornblower and the Atropos, Hornblower is in charge of Nelson's funeral procession, with the Atropos as flagship of the procession.
Bush compares Hornblower to Nelson in The Happy Return. In A Ship of the Line, reference is made to Nelson's seasickness by Hornblower in an attempt to calm himself.
In Flying Colours, Sir Thomas Hardy is mentioned as having a portrait of Nelson in his cabin.
Hornblower's capture of the Flame in Lord Hornblower is compared by the Morning Chronicle to Nelson's capture of the San Josef, although Hornblower considers the comparison "nonsense", as he thinks himself a "fortunate plodder" in comparison to Nelson.
In the TV series, Captain Sawyer is compared to Nelson by Hobbs in the episode Retribution.
Although it is often believed that Horatio Hornblower was named after Nelson, since he shared other traits (such as chronic seasickness) with him, Hornblower's first name came from the character of Horatio, from Hamlet.
Appearances
Edit
External links
Edit