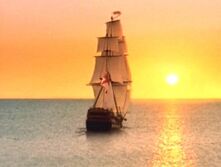 HMS Renown was a ship under the command of Captain James Sawyer in late 1801 up to January, 1802. She was a 74-gun ship of the line which held twenty eight 32pdr guns amongst other weaponry.
In the short story Hornblower and the Widow McCool, senior officers were First Lieutenant Buckland, Second Lieutenant Roberts, Third Lieutenant Smith, and Fourth Lieutenant Hornblower. The novel Lieutenant Hornblower begins as Bush joins Renown. As he was senior to Smith and Hornblower, he became Third Lieutenant bumping each down a notch. (In the TV adaptation Buckland is 1st, Bush 2nd, Hornblower 3rd, Kennedy 4th)
While Renown was enroute to Jamaica, Captain Sawyer fell down a hatchway, was injured so that he was unable to command. First Lieutenant Buckland was effectively in command during the taking of Samaná and the arrival at Kingston, whereupon Captain Cogshill assumed command.
Appearances
Edit
External links
Edit